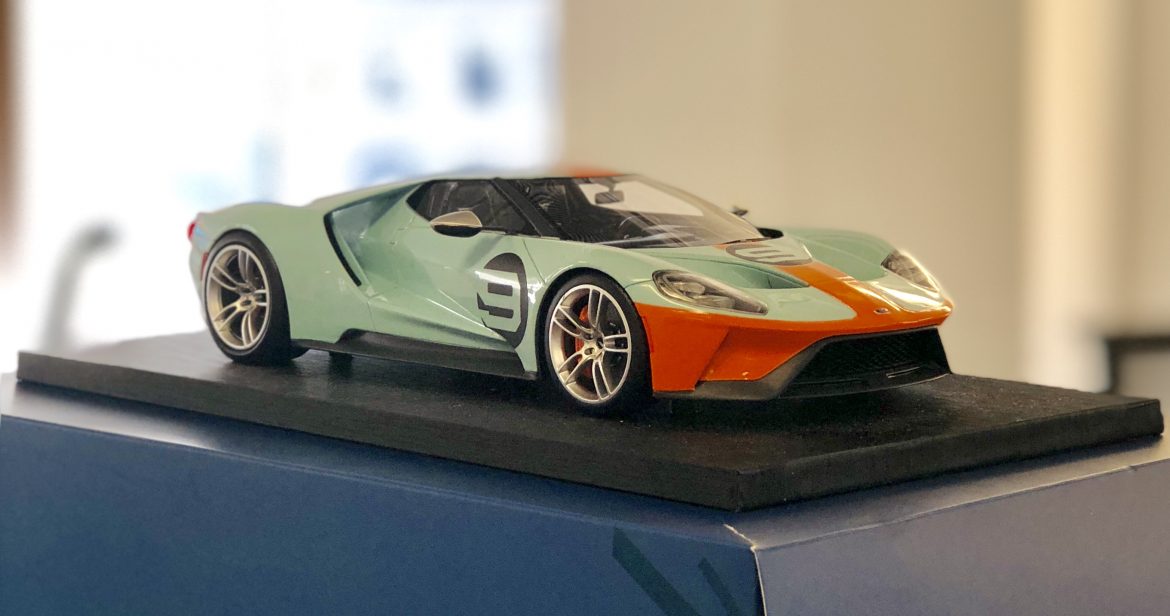 Those lucky enough to be on the list of buyers for the exquisite Ford GT Heritage Edition will probably be getting excited at the prospect of a shiny new blue and orange Ford GT arriving sometime in the future; for those not quite so fortunate, or anyone who wants a Heritage Ford GT now, it is possible to obtain a 1/18 scale model of the tribute to Gulf's inaugural Le Mans victory 50 years ago – and at a somewhat more affordable price!
As the images show, the model is truly impressive. The car measures 25cm in length, comes ready mounted on its own display base and the detail is excellent, even down to the carbon fibre weave and the Gulf Orange Brembo brake calipers.
The model looks great on a desk, table, or in a display case.
We are looking to put together a collective order of the 1/18 scale cars – which will be around $70 ex works – if we reach a total order of around 100.
Following the success, this year, of the 1:64 scale set of five models we are also looking at the opportunities there might be for a 1:64 scale Ford GT car – or set of cars (1968 Le Mans Winner, 2005 Ford GT and 2019 Gulf Heritage car) – as a follow up for 2019.
If you are interested in this as part of your promotional plans for 2019 or in having a 1:18 car (or quantity of cars) please contact Rachit at Gulf Oil International: Ova e-mail adresa je zaštićena od spambota. Potrebno je omogućiti JavaScript da je vidite.