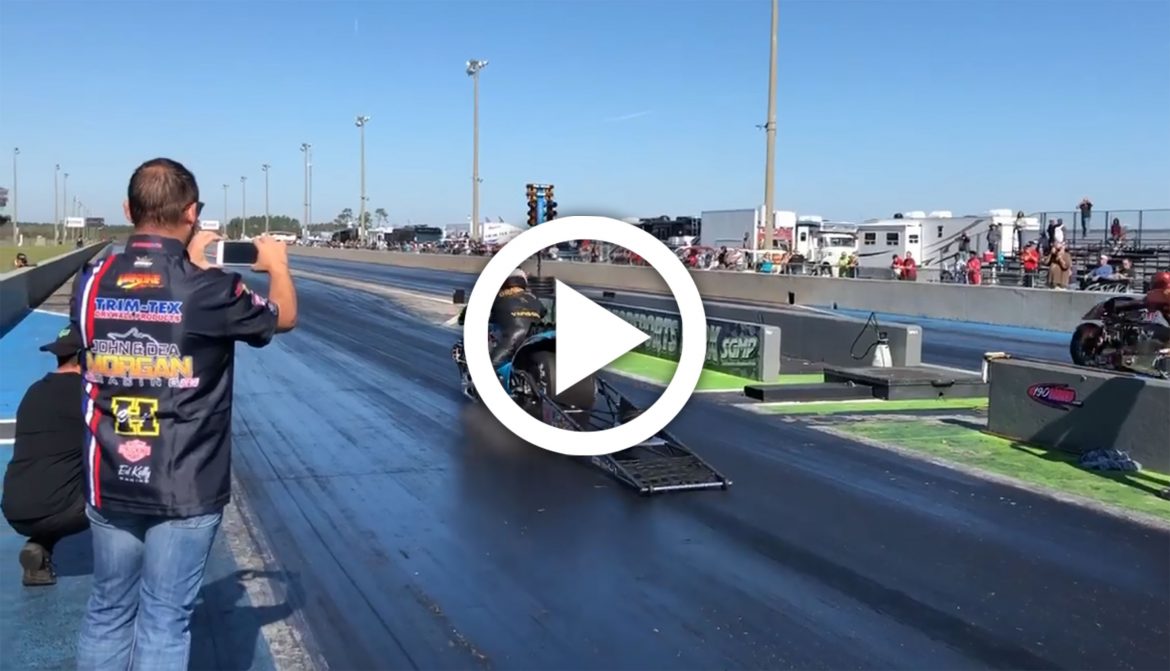 Ian King came out of retirement for a one- off ride on the Gulf Oil DragRacing Top Fuel bike at the Manufacturers Cup Final, last weekend, at the South Georgia Motor Park in the USA.
The 10-time Top Fuel European Champion felt he had "unfinished business" after last year's campaign in the USA and now-regular rider, "Fast Fil" Papafilipou handed back the bike to its creator and long-time pilot, Ian King, for an end of season trip to the USA.
Here Ian was to take on the cream of the American Top Fuel racers and although the Gulf DragRacing Bike is reportedly the World's Most Powerful Motorbike, neither Ian or the Bike have really previously had enough track time in the USA to fully get used to the tracks and the set up necessary to run the sort of times that they had regularly posted in Europe.
This time, however, the 1500+BHP fire-breathing monster – which always runs using regular Gulf Road Lubricants – was to give a performance much more in keeping with those we are used to seeing.
Ian progressed to the Finals – on the way defeating multiple American Champion, Larry McBride – and, in the process, posting two runs under the magic 6-second barrier, showing that he had lost none of his speed.
Sadly, set up problems for the Grand Final, caused huge "tyre shake" and meant that Ian had to shut off the bike throttle, in order to make it safely down the track, which handed victory to Mitch Brown (in a time that was slower than any of the runs Ian had previously posted on Finals day). Regardless of this final run, "The King" had proved that he was undoubtedly back and, judging from all of the social media posts, the Gulf bike and its rider had again won over the hearts and minds of a very partisan American crowd.